The holiday season has finally arrived. This is a busy time for small businesses every year, but this time it's even more intense. The 2020 holiday season is going to be incredibly important for so many small businesses struggling to recover from the hurdles that COVID-19 has thrown their way.
On top of having to adapt to this "new way of life," businesses are now having to deal with the growing problem of Google My Business listings phishing.
Getting your GMB listing hijacked can be a headache for any business, but even more detrimental for the small businesses that are already facing challenges. And, unfortunately, this problem is not going away.
Sterling Sky's, Brian Barwig has reported on the matter, saying that there has been an uptick in complaints coming into their Local Search Forum. There have also been numerous postings popping up on the GMB Forum looking for help with this issue.
So, what's going on — and are you at risk?
What is Google My Business (GMB) and why should you care?
Google My Business (GMB) is a free and easy tool that businesses can use to boost their online presence and promote their service.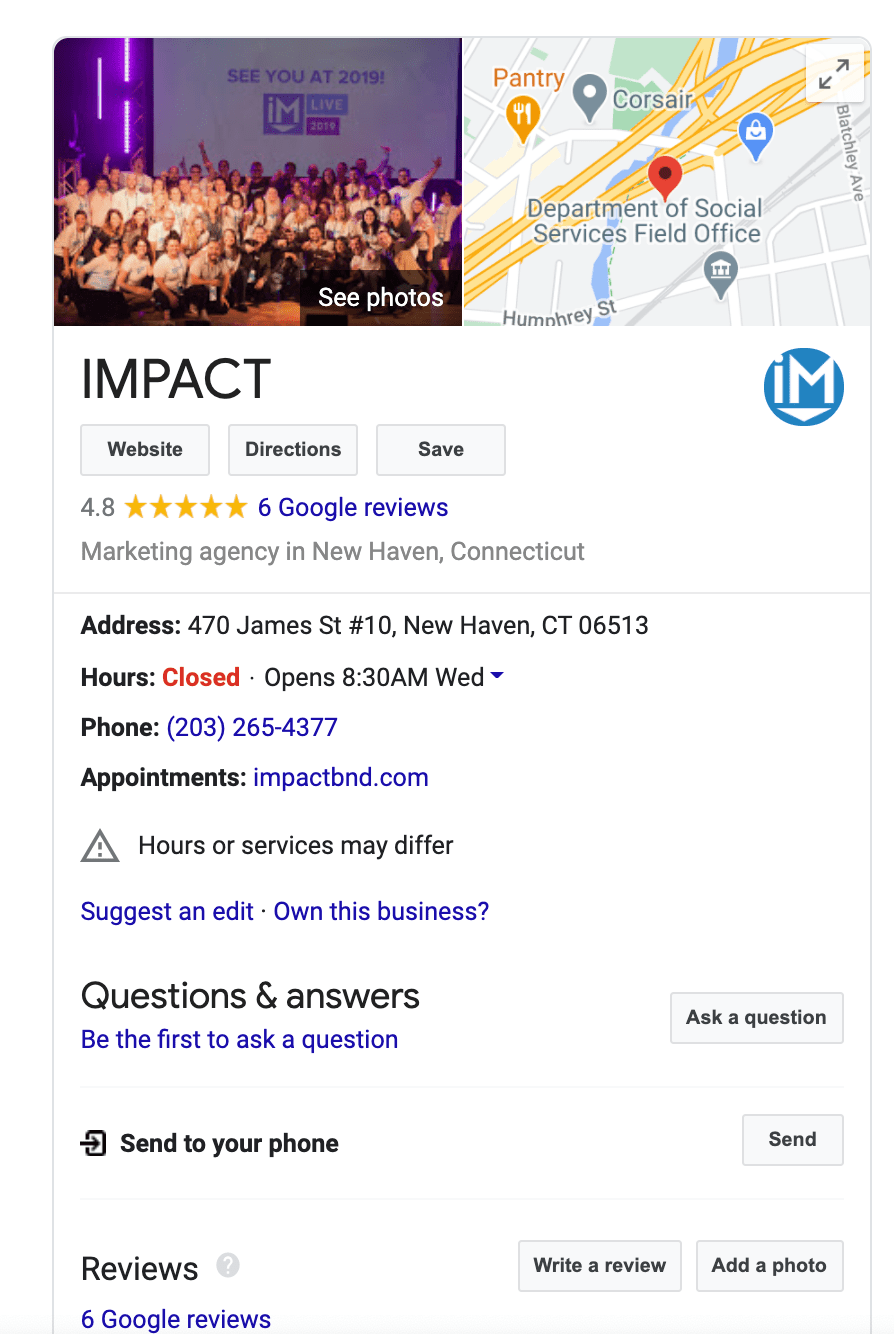 When users search for businesses on Google they will be presented with basic information on that business such as location, phone number, business hours, and reviews. These listings appear on the right hand side of the SERP page in a separate box.
Many customers find the information they need with in the GMB, so making sure your GMB listing is optimized is vital.
This can help a business increase its search visibility, allow a better shopping experience for its buyers, and help bring more traffic to its website, social media pages, and brick and mortar location.
However, if a listing is hijacked, your users could be presented with fraudulent links, false reviews, and all-around unreliable information. For small businesses especially, this can be detrimental to the local search results that they so greatly need.
What does hijacking look like?
Spammers are attacking businesses by accessing the "claim this business" link in the Google Local Knowledge Panel. This then generates an email that will be sent to you, the business owner, from Google My Business notifying you of a request to gain control over your listing.
If you ever receive one of these emails for your business, you can and should decline the request. A user shouldn't be able to access your listing as long as you do not click the link in the email or follow through with the verification process it contains.
Many victims of the phishing are reaching out via the GMB forum. Responses from a Google Platinum Product Expert assure customers that a user should not be able to gain control of your listing without stepping through the verification process.
A spokesperson from Google also told Search Engine Land,
"We're aware of this incident and are monitoring it closely and are continually working to keep the information on Maps safe and accurate."
As marketers, it will be interesting to see how quickly this problem escalates and exactly how proactive Google is in response.
Keeping your GMB safe
Even though the rise of GMB phishing seems a bit scary and frustrating, you can find reassurance in knowing that you are still in control of your listing. You can report any suspicious activity to Google directly via this form.
As always, keep an eye on your business' online presence to notice and suspicious activity.
Spammers may try to trick you, but as long as you are aware of the problem and ignore and delete the email attempts to gain control you should be just fine.